next upcoming show:

August 10th, 2003
thousandaire (kansas city, mo)
cold wet + alone (fort wayne, in)
lovesongsfornoone (leo, in)
last one out (fort wayne, in)
curusoe (muncie, in)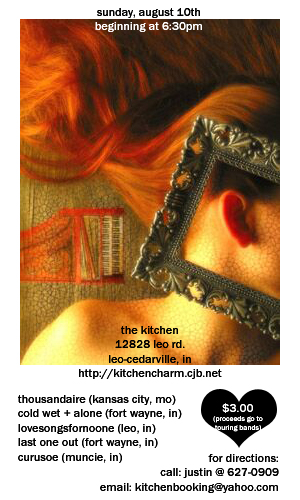 news:

SPECIAL NOTE: lovesongsfornoone is very near
completion of their debut e.p. After mixing and
mastering is complete it will be released through
out of the oven records. Look for an early winter
release. Also, we are beginning to select tracks
for an upcoming kitchen compilation. If you have
played here and would like a song featured on
this comp., please email us with your band
name and the songs you would like to submit.

08.02.03 - yeah, i am a bitch. i never update this
shit. however, i did today. i added more pictures
and updated the shows section. sometime soon,
i will try and update this site more frequently but
for now, chill out and have a beer or a nice...
fuck you.

06.22.03 - yep, its been a hell of a long time since
i have updated this bitch. well, now is the best time
considering we have many more shows planned and
i have nothing better to do. i haven't really listed this
on the shows page but we are going to try and setup
a local band show sometime in the near future so we
can finally buy a decent pa system. sometime soon,
i am going to get around to actually putting up video
and audio for you pukes that still go to this site. also,
i just added a shit load of pictures to the site so go
and view them. i am also planning on updating the
releases section of the site with some news about
what each band is doing now that we aren't that lazy
anymore. sure, lately our shows end with us partying
until the wee-hours of the morning with the touring
band played earlier in the night but its still about
rock 'n' roll baby. if you don't like this, well then...
fuck you.

05.13.03 - working on making the site a little more
user friendly (better layout for you football playing
mother fuckers). i hope nobody takes me seriously.
there will also be a lot of new releases in the next
few weeks so go to the releases page asap. go
to all the shows here and support other house
shows. the leavell house will be having their first
show. so if i don't see you there, i will castrate your
first born son. and if you don't have a son, well...
fuck you.

04.16.03 - started work on adding more pictures,
added more upcoming shows, updated info on
releases, and starting to work on the history so...
fuck you.

03.10.02 - new site, new release, new attitude so...
fuck you.